Who is behind JetCycle?
"My name is Christophe Déprés, I am a teacher-researcher specialized in materials and mechanical design. Passionate about outdoor sports, aeronautics, science, amateur airplane builder, I like to get involved in challenging projects. I crossed paths with Nicolas in 2018, looking for someone driven by an entrepreneurial spirit."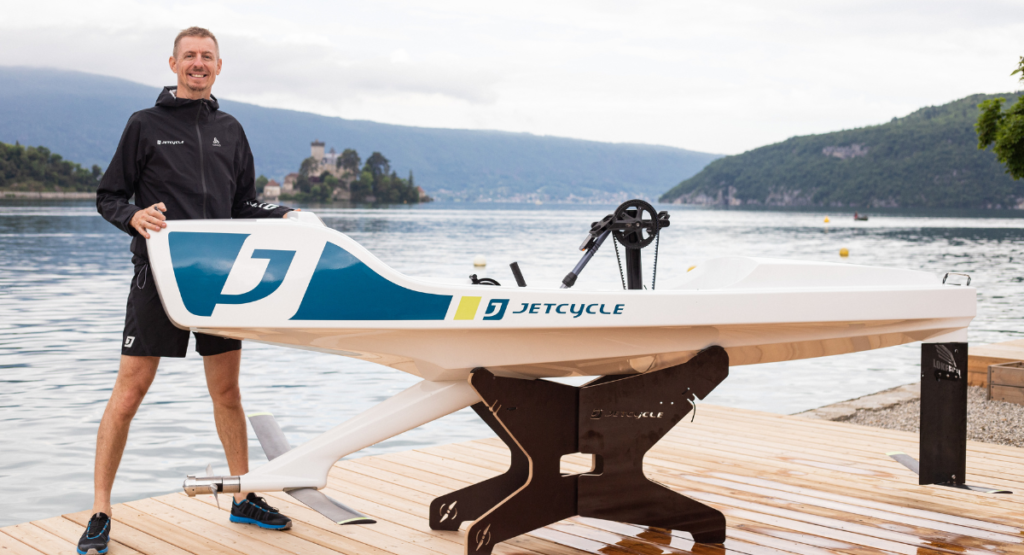 How did you come up with the idea for JetCycle?
"The idea of creating a fast and efficient pedal boat was born from a conversation between Xavier Louy, former director of the Tour de France and President of the association of the most beautiful detours of France, and an elected official of a French municipality who owned a water zone and was looking to promote a tourist attraction for his town.
"How about a pedal boat race?" "Yes, but a classic pedal boat won't meet the need, because it goes at pretty much the same speed no matter who is pedaling!" "Well, let's create one!". So they turned to the University of Savoie Mont Blanc, because we were already designing pedal machines (world speed record for a streamlined bicycle, 137 km/h). No analogy however between the two machines except for the pedals… and the passion for building beautiful machines."
What was the trigger for you to embark on this adventure?
"The prospect of creating a product that meets the needs of teaching product design and industrialization techniques as well as aesthetic and ecological desires. But also a great passion for the fields of mechanics, aeronautics, and outdoor sports. It didn't take long for me to be convinced!"
Tell us about the journey since the launch of JetCycle?
"The task was not easy. First of all, to look for sponsors to finance materials and tools and to learn how to calculate the performance objectives as precisely as possible. But also to make a visually attractive design (the very first drawing looked more like a tractor than an elegant boat), to build with limited technical and financial means, to accept the multiple disappointments in the face of failed tests, to analyze the failure and to redesign, to re-analyze, to improve, to re-design again. … a long and tedious process, carried out on Lake Annecy in the heat and light of summer but also in the harshness of winter climate on a lake with blue-black waters less welcoming!
Each test was a small step up, until the result of a magnificent machine, which we have today".